Meet Guy Bogart
Guy Bogart is the owner/operator of Warwick Sanitation. A life-long resident of Warwick, New York, Guy has 27 years of experience in the sanitation/waste industry. He is active in the Warwick community and has a reputation of being the "go-to" man for many jobs and services. Guy provides any type of sanitation service — from weekly trash pick-ups to bulk pick-ups of any type.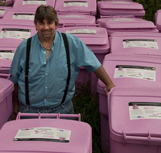 We are a locally-owned business. A recent Small Business Economic Impact Study from American Express (2018) showed that 67 cents out of every dollar spent on local business stays in the community!
Guy's business, Warwick Sanitation, is built on excellent, courteous, personal service to his customers. Guy's philosophy, and a primary focus of Warwick Sanitation, is to "give back" to society and his community. In memory of his Mother and Grandmother, he actively promotes breast cancer awareness though donations to the American Cancer Society for Breast Cancer Awareness. He also contributes his time and services to many local projects and events.
Guy offers the Warwick Community the opportunity to choose a local, first class sanitation service. His customers are his neighbors. Their happiness is his main objective, and he works diligently to accommodate their every need.
You have been handling weekly trash collection at our shop in the village since last fall. Recently, we had an overflow of debris from a big delivery job. We asked for your help, and your guys were able to remove it at a very reasonable price. That sure as heck beats having to haul it to the dump ourselves!.

"Warwick Sanitation has provided outstanding service for our family in the Village of Warwick.  The service is professional, on time and conscientious about the return of the refuse containers.  Warwick Sanitation continually gives back to the community athletic programs through the Purple Champions Program."

We have had a wonderful relationship with Warwick Sanitation for over a decade. Guy Bogart and his team are dependable and reliable. They go the extra mile to service us.

Thank you so much for your kindness and exceptional service over the past several months. When the caretaker at my place was injured this spring, Your driver heard about it and came all the way up my driveway to get the garbage. That was so nice. We really appreciate what you did. That's why I always try to support local companies – because they care!

Guy Bogart is truly one of the most community-minded people I have ever had the pleasure of knowing.  As Executive Director of the Warwick Valley Chamber of Commerce, I have been in a position to witness this on a regular basis.  Guy also understands the value of keeping business local – the most essential ingredient in the recipe for rural community success!

"We have been loyal and very satisfied clients of Warwick Sanitation for almost 10 years.  Over this time, they have always kept pricing competitive, but more important, the service they provide is top notch…friendly and reliable.  Guy and Dot are the best, and I would urge anyone in their area of service to support this local small business…who give back to our community in so many ways!"

"I have used Warwick Sanitation since Guy started it. He is reliable, honest, fair, hardworking and LOCAL!!! I urge you to support this dedicated human being. Support Guy Bogart of Warwick Sanitation. In doing so, you support your community."